Wait!
As a valued new customer, I want to give you one last opportunity to take advantage of this special offer because I want to jumpstart your success…
How About Only $37 for My 5 Top-Selling Natural Apnea Treatments Reports?
That's

85% Off!
No thanks, Marc, I'm passing up this great offer
Here's what you get in this amazing package:
Cure Your Sleep Apnea with Herbs ebook

(Valued at $49.95)
---
Did you know that there are herbal therapies that can greatly reduce sleep apnea symptoms and cure insomnia?
This 23-page ebook is the most comprehensive resource on herbal therapies for sleep apnea and insomnia available anywhere. In this ebook you'll discover:
Common (and uncommon!) natural, plant-based sleep aids
Natural remedies that help sleep apnea respiratory symptoms
The best non-addictive sleep supplements
The best sleep supplements to prevent grogginess when you wake up
Sleep supplement that are the most effective
Detailed instructions on where to buy these supplements (online and in stores)
And much more!
Yoga Breathing for Sleep Apnea: Your Complete Exercise Guide ebook (Valued at $49.95)
---
It's a little known fact that your diaphragm muscles can be a huge help in reducing sleep apnea. How? The diaphragm muscles are responsible for breathing – weak muscles mean your breathing isn't as strong as it should be.
In this 24-page ebook you'll be shown step-by-step how to improve your breathing using specific yoga exercises. Here's some of the things you'll learn from the ebook:
How an ancient yoga technique can help control your breath (and increase your awareness)
A ten-step breathing technique that will strengthen your diaphragm and improve oxygen slow
Two breathing exercises that will calm your mind and free your body of toxins
Four "sleep meditation" exercises that will help you sleep better tonight!
And much more!
Food, Allergies, and Sleep Apnea ebook (Valued at $49.95)
---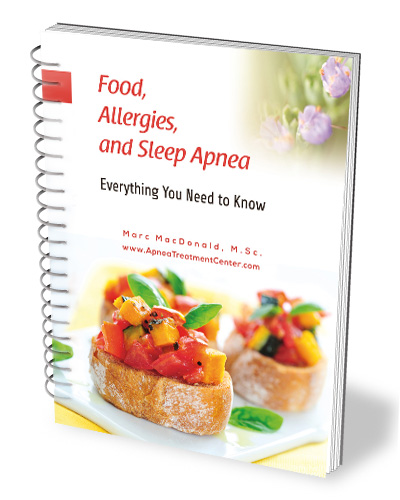 What we eat and the allergies we have can have a big impact on our sleep apnea. This no-fluff, 12-page ebook explains the relationship between food, allergies, and sleep apnea, and covers these topics in detail:
Foods that make sleep apnea worse
Foods that can help reduce sleep apnea symptoms
How allergies can contribute to sleep apnea
Solutions to reduce or eliminate your allergies
General measures to prevent allergies
And much more!
Weight Loss for Sleep Apnea ebook (Valued at $49.95)
---
Most sleep apnea sufferers know that being overweight or obese is one of the main causes of sleep apnea. But how to shed those extra pounds?
This 213-page ebook was written specifically for sleep apnea patients by an M.Sc. nutritionist who has years' experience treating people with sleep apnea. This comprehensive ebook is a complete weight loss course, including 12 modules covering these topics and more:
How to prepare meals that are healthy AND don't taste like soggy cardboard!
How top determine the best portion sizes for you
How to stick to your diet
How to get your family on board
How to deal with hunger
How to improve your energy levels
And much more!
Overcome Daytime Fatigue: Sleep Apnea Edition ebook (V

alued at $49.95)
---
If you've uttered the words "I'm too tired to…" in the past year or so, you are not alone. Some 50 million Americans see the doctor each year complaining of general fatigue. As a matter of fact, fatigue is the next-most-common complaint after colds and flu!
In this 57-page ebook you'll be taught all the tricks of the trade to overcome your daytime fatigue – as quickly as possible! The ebook covers these topics and more:
Should I use stimulants to combat my daytime fatigue?
Techniques to stop feeling drowsy during the day
How to increase your energy levels
Exercise workouts to fight fatigue
Food that fight fatigue
How to sleep less and still feel great
And much more!
My 60-Day No-Questions-Asked Guarantee
YES, Marc! I want the additional knowledge I will gain on NATURAL sleep apnea treatments from your Natural Apnea Treatments Reports Bundle!
I understand that for the low price of $37 I will get these additional ebooks:
Herbs for Sleep Apnea
Yoga Breathing Exercises for Sleep Apnea
Food, Allergies, and Sleep Apnea:
Weight Loss for Sleep Apnea
Overcome Daytime Fatigue
I understand that I am getting a great deal, am paying only $37 for all 5 ebooks, and am saving more than $200.00 by ordering the reports in this great package deal.
No thanks, Marc, I'm passing up this great offer