"Do You Always Feel Tired or Sleepy During the Day?"

Stop fatigue from ruining your work or school performance. Learn how to
combat daytime fatigue using simple, easy-to-follow methods.
From the Desk of:
Marc MacDonald, M.Sc.
Independent Sleep Apnea Researcher
Dear Valued Customer,
According to studies, as much as 50 million American experience daytime fatigue. In fact, this condition is one of the most common reasons for doctor visits, along with colds and flu. If you are one of those millions who always say "I'm tired…" or "I'm too tired to…" then don't worry. I have few tips and tricks that can help you feel refreshed and energized throughout the day!
I'm not here to recommend medications, equipments, and all that— no. What I have here are simple, natural ways to help you last all day.
Staying alert and energized should not be a chore. In just a few moments I'd let you in to a few secrets on how to fight tiredness the natural way.
Some Facts on Daytime Fatigue
Before anything else, let us learn a few facts about daytime fatigue:
One in every five people claim that they feel tired for no apparent reason
One in every ten people experience prolonged fatigue
According to a recent poll conducted by the National Sleep Foundation,

60% of adult drivers felt sleepy while driving
30% have actually fell asleep while driving
4% got involved in an accident because they slept or were too tired to drive
A study from Adelaide, Australia that a person who's been awake for 17 hours is at high risk of getting into an accident
The solution for those? Here it goes…
Introducing…
Overcome Daytime Fatigue
Sleep Apnea Edition
With the busy world that we have, being sleepy from time to time is almost universal. However, it becomes a problem when it is already affecting your school or work life. But don't give up just yet. Through this guide, I will teach you all the basic things you should know about daytime fatigue, to be able to correct it yourself— naturally.
Now, let's talk about this guide. There are lot of other reports available on this subject. How does this one standout? Well, this guide:
Is a 57-page report that tackles all the basic information that you need to know about daytime fatigue.
Points outs the various causes of daytime fatigue and provides clear, concise explanation on each.
Discusses if stimulants REALLY help you ward off daytime fatigue.
Explains the link between daytime fatigue and sleep apnea.
Lists some of the effective food and drugs that fights fatigue.
Includes a short part about napping and what studies say about its effectiveness combating fatigue.
Gives some practical, natural tips and tricks that you can do at the comfort of your own home. Or even at work.
Provides you with exercises that won't just fight your daytime fatigue, but also makes your body leaner and stronger— complete with photos to guide you.
And for the busy fellows who couldn't afford to sleep for 8 hours every night: Learn how to sleep LESS, yet still feel GREAT the next day.
All those and so much, much more….
[add_to_cart_btn_style_2 link="#" + target="_self"] [/add_to_cart_btn_style_2]
[headline_arial_medium_left color="#000000″]For Just $27![/headline_arial_medium_left]
And if you aren't interested yet, the following testimonial should make you:
[testimonial3 author="Mike, aged 67, Kent, UK" + pic="http://www.sleepapneaexercise.com/wp-content/uploads/2011/06/mike_small.bmp"]""My obstructive sleep apnea was destroying my life and my marriage. My wife couldn't sleep and we ended up in separate bedrooms. The snoring was an issue true enough-but she couldn't sleep next to me out of fear. She honestly thought I was going to pass away in my sleep and hated the CPAP machine as much as I did. My GP suggested seeing a speech language pathologist. Well, I have to admit I had my reservations but I'm so glad I went. I would never stop my oropharyngeal exercises. I started doing them 4 times daily and now do them twice daily. I do a series of 8 exercises.
My snoring has all but stopped now and I'm not gasping for breath as I was, my wife and I now share the same bed once again. The CPAP machine has become redundant and now lives in the back of our wardrobe! My advice to anyone, young or old, no matter how long you've been a sufferer for, go along to your GP and enquire about seeing a speech language pathologist. The oropharyngeal exercises are such a natural 'treatment' compared to the CPAP mask, they are well worth the effort. My apnea has been reduced by approximately 70-80% since completing the exercises regularly.""[/testimonial3]
Curious? Well then, to help you decide, let us now do a quick view of what you can find in this short report:
What Causes Daytime Fatigue?
The guide will first go through the most common causes of daytime fatigue. Learn how the following makes you feel tired and drowsy:
Poor sleep habits and abnormal sleep patterns
Physical and mental sleep disorders
Illnesses and injuries
Medications
Fatigue of unknown causes will also be tackled. 🙂
What Can Help Ward Off Daytime Fatigue?
Now that you know the causes, we go to the solutions. So what can help you get rid of fatigue? What can make you last throughout the day? Below is an overview of the different solutions included in the guide:
If you're tired, the first thing that you'll consider taking are these stimulants— in particular, that caffeine-loaded frappuccino you always buy from your favourite coffee shop. But did know that the effect that it provides you is only temporary? In fact, you might even be surprised to know that your regular consumption of that frap is worsening your fatigue.
Sleep restores the energy we spent the whole day— we are all aware of that. But what if you have sleep problems? Or you cannot get enough sleep no matter how you want it because so got lots of things to do?  Learn the answers to these questions in the guide.
Improving your eating habits
Did you know that there are certain foods that would leave you fatigued a few hours after consuming them? You see, eating habits play a major role in eliminating your fatigue. Learn six simple fatigue-fighting nutritional strategies from my guide.
We hear a lot about physical fatigue— but what about mental exhaustion? Mental exhaustion, compared to its physical counterpart, actually takes a heavier toll on our body. Being able to handle difficult emotions and stress well can help your body restore its vigor and vitality. Learn how to do just that in this guide.
Can Exercise Help?
It sure can. In fact, according to a study conducted in University of Georgia, regular exercise can help reduce your fatigue by around 65%. Learn how the following exercises can help you feel more awake and energized:
Frog jump
Triangle stretch
Double leg extensions
Standing lateral side bend
Overhead triceps press
Twisting lunge spiral
Standing inner-thigh energizer
Kneeling preacher curls

 
Each exercise comes with easy-to-follow instructions and some illustrations to help you out.
And if you don't have time to perform those exercises, it's totally fine. I'll let you know some quick energizers to keep you up the whole day.
And finally, the most interesting part of all…
How to Sleep Less and Still Feel Great
Eight hours of sleep every night is extremely important if you want to feel great the next day. But what if you can't do that? Is there a way to sleep less than 8 hours, without hurting your health?
The good news is, YES. It is possible. All you have to do is follow two simple rules I have in the guide.
So, if you're tired of being tired, waste no time. Avail yourself now a copy of:
Overcome Daytime Fatigue
Sleep Apnea Edition
Upon purchase, you are also in for some more bonuses:
FREE BONUS #1! "Food, Allergies, and Sleep Apnea" ebook
---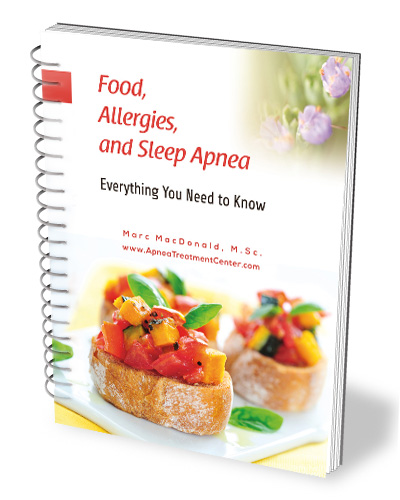 What we eat and the allergies we have can have a big impact on our sleep apnea. This no-fluff, 12-page ebook explains the relationship between food, allergies, and sleep apnea, and covers these topics in detail:
Foods that make sleep apnea worse
Foods that can help reduce sleep apnea symptoms
How allergies can contribute to sleep apnea
Solutions to reduce or eliminate your allergies
General measures to prevent allergies
And much more!
FREE BONUS #2! "Yoga Breathing for Sleep Apnea: Your Complete Exercise Guide" ebook

Valued at $49.95
---
It's a little known fact that your diaphragm muscles can be a huge help in reducing sleep apnea. How? The diaphragm muscles are responsible for breathing – weak muscles mean your breathing isn't as strong as it should be.
In this 24-page ebook you'll be shown step-by-step how to improve your breathing using specific yoga exercises. Here's some of the things you'll learn from the ebook:
How an ancient yoga technique can help control your breath (and increase your awareness)
A ten-step breathing technique that will strengthen your diaphragm and improve oxygen slow
Two breathing exercises that will calm your mind and free your body of toxins
Four "sleep meditation" exercises that will help you sleep better tonight!
And much more!
So, to sum it up again, here's why you should consider
Overcome Daytime Fatigue
Sleep Apnea Edition
Learn the natural way of getting rid of fatigue and keeping yourself refreshed and lively throughout the day
Risk-free: money back guarantee 😉
Just think about it. $27 and a little cooperation from yourself— that's all you need to free yourself from daytime fatigue. Isn't that much better than spending much much more on all those stuff that promises to keep you awake?
You can have the solution to your daytime fatigue. Now. All you have to do is to click here and get your copy of Overcome Daytime Fatigue: Sleep Apnea Edition. Get it now and see the results.  
Remember, you have nothing to lose here—there's always the money-back guarantee. Great, right?
My 60-Day No-Questions-Asked Guarantee
The solution to your daytime fatigue is here. For the very cheap price of $27. Click here now to purchase.
Questions? Contact me anytime @:
Marc MacDonald, M.Sc.
Independent Sleep Apnea Researcher
Ottawa, Canada